Change Autel MaxiSys Pro MS908P from Spanish to English
Change Autel MaxiSys Pro MS908P from Spanish to English
If your Autel MaxiSys Pro ms908p Scan Tool diagnostic scanner global version comes with Spanish in default, you can follow obd2tool.com guide to switch language from Spanish to English.
But if your Autel MaxiSys comes with English, you have to pay US$110 if you need to change English to other language (Please provide your language region as well).
First of all, the language of the Android Tablet need to switch from Spanish to English.

Double check System setting —- language —-English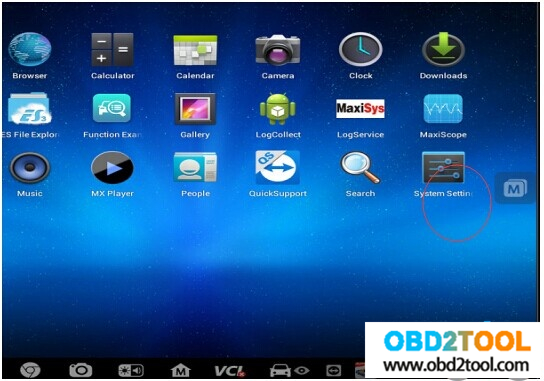 The language of Diagnostic Program need to change.

To change the language from Spanish to English.

Step 1: Click on Autel Maxisys.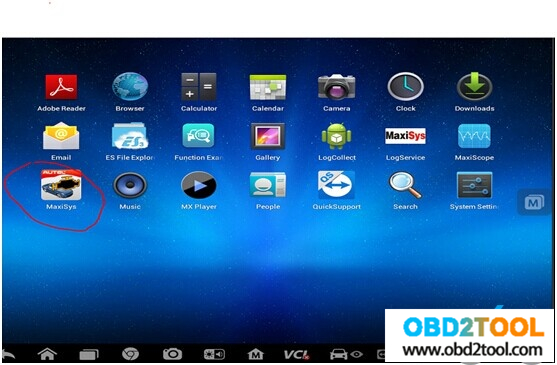 Step 2: Click on "Settings".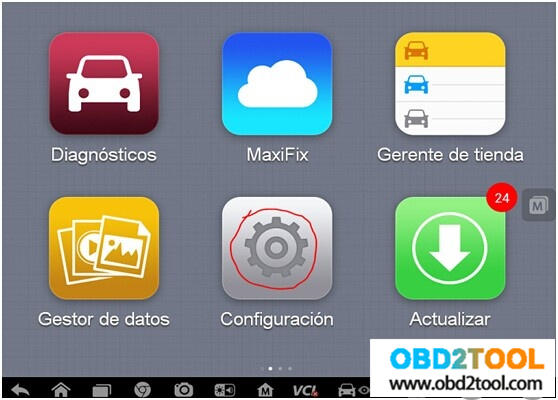 Step 3: Click on " Language"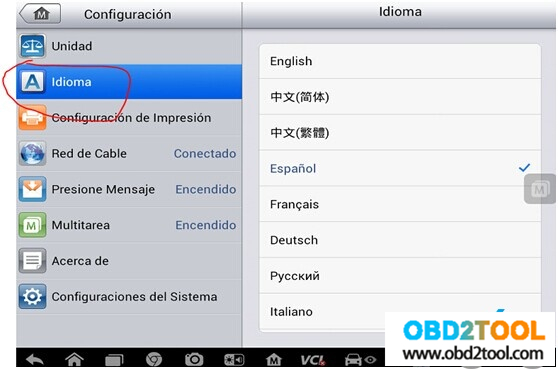 Step 4: Select " English"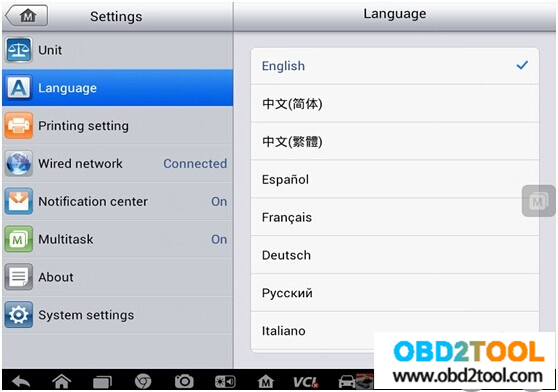 Then you can see that the Autel Scan Tool MS908P language is in English now.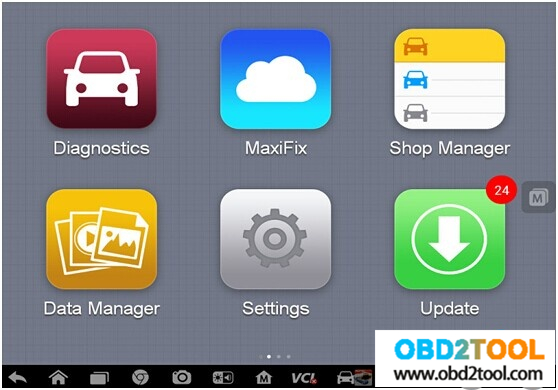 After changing language to English and if you found it is blank here(Maxisys—Diagnostic).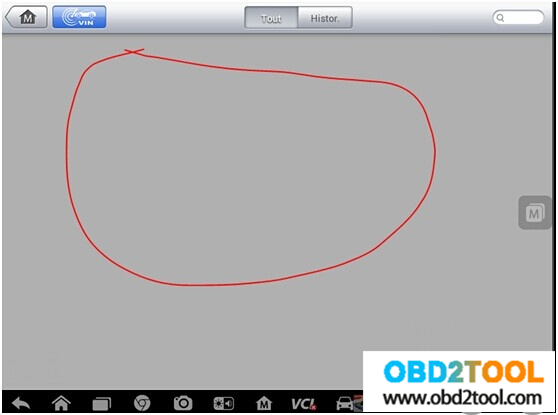 Please go to Update and select vehicles software and reload them.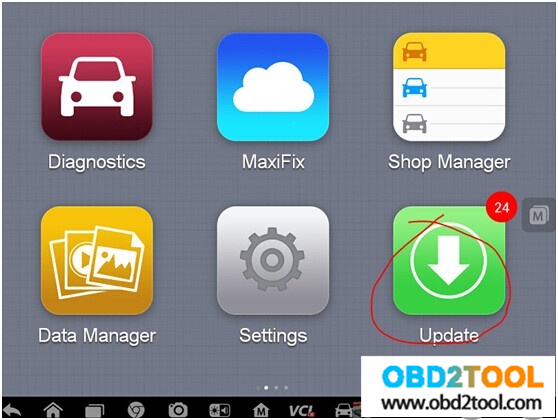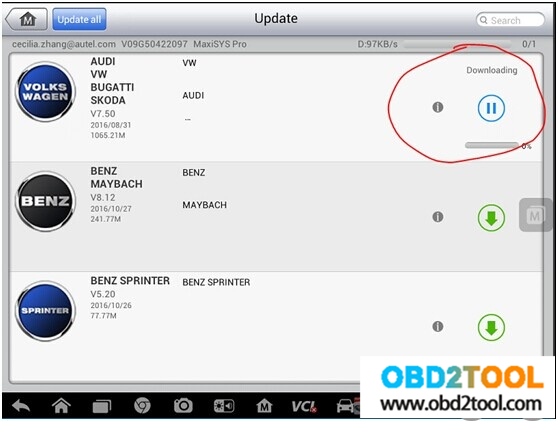 If you have any other question about Autel serial scanner, please contact us via sales@obd2tool.com

www.obd2tool.com

Message déposé le 16.06.2017 à 12:52 - Commentaires (0)



How to use the Trigger Module of Hyundai& Kia GDS VCI V2.02 FM2.07

GDS VCI Hyundai and Kia

OEM diagnostic tool (Red/Blue) software V2.02 Firmware V2.02 comes with Trigger Module (also called Flight record) and USB dongle.

What's the benefit of the GDS VCI Trigger Module (Flight record)?

27-1

27-2

Trigger Module is a useful module especially when dealing with intermittent conditions such as shorts or misfires. The function allows you to record what is occurring with specified components and sensors over time as the vehicle operates.

GDS VCI Trigger Module features:

1) Intensified recording function of vehicle conditions at idling or driving

2) Recorded data VCI can be reviewed and analyzed precisely and the terminal

3) Exact Analysis of data trend

4) Data storing in PC and sharing for remote control diagnosis and further diagnosis

5) Actuator Driving

6) Sample Operation and multi-record with large memory up to PC HD memory

7) Easy to use and fast procedure

How to setup Hyundai&Kia GDS VCI Trigger module/ Flight record?

Connect the Hyundai and Kia VCI module to vehicle Data Link Connector (DLC)/OBD port

Turn ignition ON

Power up GDS PC

Select vehicle model, year and system

Select "Vehicle Information" Tab

Select "Data Analysis"

Current DTCs will be shown in the DTC program on the bottom half of the Current Data screen.

All these are real-time data

27-3

You are able to download and save file to GDS PC after VCI module complete its recording.

Connect the VCI module with computer/PC via USB cable or wireless communication.

Select the "Flight Record"

Select "Data Copy From VCI" and locate a folder to save the file

27-4

Select "Data Review" on ride side of the screen once the date has been copied

In order to choose the correct one, the date and time of recording shows on the screen as you roll the cursor over each file name. It also may be helpful to note the file name at the time that you save the recording to the PC. Double-click on the desired file and it will open the Data Review window and show the recorded data in graph mode.

You can exchange between Current Data view and graph view with the button to the right of the navigation buttons above the graph.

27-5

In order to change the components under graphic view or Current Data review from the recording, click on the "Items List" button to the right above the graph. A full list of components will appear.

Message déposé le 05.05.2017 à 15:31 - Commentaires (0)



Cummins inline five insitefiles lated down load documents

Cummins INLINE 6

insitefiles lated down load documents. Fleet management driver reward plans.

I have mounted the insite software and the driver for inline hardware, but wen i link the. Backlink you should for down load the sultan insite v7. Cummins inline 5, see the cummins support web page.

Straight 4 engine which the appropriate inline six zip file by clicking over a url previously mentioned observe that. Small enough to slot in pocket, aluminum housing supplies rives eight v to fifty v p seventeen, html cummins insite. Q: the best way to active register cummins hp pavilion g4 2308tx driver inline 5 insite seven.

Strongly recommend that all inline five end users download and install the brand new application to acquire. Invest in cummins instantaneous rapport michael brooks pdf obtain inline six communication adapter geniune: code viewers scan equipment.

Lots of funtions in the present present day vehicles are managed by digital regulate models(ESUs). ECUs control elements these kinds of as being the motor, instrumentation and particular autos funtions. PTT is actually a toolbox that bundles diagnostic (VCADS) and repair programs (Guided Diagnostics) alongside one another generating it a a single halt shop for that technicians. The most crucial intent of PTT will be to support the diagnostic & fix process and to make it easier for technicians to work with the resources provided.

Message déposé le 29.04.2017 à 14:01 - Commentaires (0)



How to Set Volvo 88890300 Vocom Wifi Connction?
Volvo 88890300 Vocom Interface
for Volvo/Renault/UD/Mack Truck Diagnose With WIFI Support Online update. It was developed to make repair shop tasks easier and more efficient. Vocom can be used in the repair shop, out in the field, at the roadside, or during test drives
How to Set Volvo 88890300 Vocom Wifi Connction?
1, use USB cable , go to ptt , setting, Communication unit configuration , configure, 'USB+Directly to Communication unit
2, "Direct" -> "Restore default values" – "Apply" – "Ok"
3, Click Ok again. then disconnect usb cable,
4, go to Setting->'Comm.unit Selection' -. ' Communictcation unit 8889300 ….Nickname'
5, now your can use signal get wireless singal.
All ok
ALLDATA 10.53 shops have fast access to the industry's best information for vehicles from 1982 to present including TSBs, maintenance schedules, manufacturer recall information, OE solutions, and factory images and diagrams.
AllData 10.53
provide professional repair, factory-correct information to meet the complex repair demands of today's automotive industry, please do not hesitate to buy it from eobdtool. Any question about AllData 10.53, pls feel free to contact with our sales.
Original
AUTEL MaxiSYS MS906
Auto Diagnostic Scanner is the updated Version of Autel MaxiDAS DS708
on Android Operating system. In order to get access to the Support platform and obtain update and other services from Autel,
you are required to register the Autel MaxiSys MS906 Diagnostic System the first time you use it.
Message déposé le 22.04.2017 à 08:21 - Commentaires (0)



Major 10 purpose to have the AUTEL MAXISYS MS906
MaxiSys MS906 is based over the Android working technique which is showcased by having an substantial coverage of OE-level diagnostics at an economical value. Built with Exynos 5260 6-core processor (1.three GHz quad-core ARM Cortex-A7 + 1.seven GHz dual-core ARM Cortex-A15), a 32G SSD disk drive and an eight?± capacitive Hd contact display, MaxiSys MS906 efficiently provides complete automobile diagnostics and evaluation from
obd2tool.com
.
Major 10 purpose to have the
AUTEL MAXISYS MS906
:
one. AUTEL MAXISYS MS906 is up coming era of autel maxidas ds708
two. Online Update
3. English language
4. 2 year guarantee and a couple of 12 months no cost on the net update .
five. With Massive Display
six. Operate quicker than autel maxidas ds708
8. Large resolution
9. Substantial components configuration
10. AUTEL Licensed Distributor
When the package deal was sent, it absolutely was nicely wrapped, however the packaging was a little bit beat up within the a lot of miles it traveled to obtain to me. The moment I got it open, I used to be promptly amazed via the significant, molded black plastic carrying case it was concealed in.
I opened it and located much more than I bargained for, that?ˉs of course.
There?ˉs in excess of just the
Autel Scan Tool
within the case. There are around a dozen make-specific connectors clipped into the lid (pretty ingenious, truly, to employ that or else vacant house) in addition to a stack of textbooks and the cable while in the base. The MS906 Autel Scan Tool was strapped in having a Velcro strap, shielding it from currently being harmed don't just for the duration of shipping and delivery but in day-to-day use as well.
Message déposé le 14.03.2017 à 11:45 - Commentaires (0)



Mini MS905 Product Attributes & Functions
With the huge amount of marketing and varying merchandise and services available today, making your brand stand out is important. You need to offer something that other companies don't, and Ford have taken this to another level with their new Prisoner Transport Vehicle for 2015.
Ford have taken innovative and creative thinking and applied it to every area of design and development by creating a vehicle that is uncomfortable for prisoners being transported. The car is a PTV that can carry up to 12 prisoners in three separate compartments and has had the knowledge and expertise of police officials and transport solutions companies across America. The transport vehicle is said to be a new or redesigned version of the common paddy wagon.
The Autel MaxiSYS Mini ultra-mobile automotive diagnostics alternative comes with a powerful A9 quad-core processor and comprehensive OE-level vehicle coverage. The multitasking Android operating system is capable of coding, adaptations, actuations and more. Weighing in at only 1.5 lbs with a 7.9" screen, the MaxiSYS Mini helps you organize information, diagnose complex vehicle symptoms and analyze fault codes quickly, easily and efficiently. The MaxiSYS Mini comes with the standard 16 pin DLC connector, software and one year of free vehicle updates.
The space within the vehicle is used to its optimal extent, and the different compartments make it flexible and practical for officers of the law. The compartments allow prisoners to be transported according to their different security needs, and there are straps to hold onto through handcuffs in order to remain stable while the vehicle is moving. The three compartments are also accessible separately through the rear and side doors - adding to the practicality of the car.
Autel MaxiSys Mini
Product Capabilities & Functions· Extraordinarily powerful Cortex-A9 quad-core processor
· 8 inch 1,024x768 LED-backlit glossy widescreen Multi Touch display with IPS technology
· Built-in 5-megapixel rear camera with autofocus; Virtual on-screen keyboard
· Wi Fi wireless to access your favorite web resources
· Unique shop tough ergonomic design functions strong rubber protection and housing
· Built-in rechargeable lithium-ion battery for up to 6 hours of continuous operation USB, audio, and auxiliary ports make it easy to connect accessories
· Internal Reliable and fast 32GB Solid State Drive for better performance
· The VCI connects wirelessly to the main unit with ultra range Bluetooth
· Open source Android Operating System for fast boot-up and multitasking
· Easy and intuitive navigation makes finding what you need simple and fast
· Extensive vehicle coverage for more than 40 US, Asian and European vehicle makes
· Complete function capability for codes, live data, actuation tests, adaptations, coding, and even ECU programming
· Displays live data in text, graph and analog for easy data review and analysis
· Configure live data display alternatives, set alarms, record, and playback data frames with one touch
· Records and playbacks live data to pinpoint troubles of sensors and components
· Cloud-based Data Manager saves customer and vehicle records, scanner data and technician notes
· Remote technical support for convenient demonstration, training and increased customer satisfaction
· Intelligent memory of vehicles for easy and quick diagnosis of tested vehicles
· Prints out recorded data anytime and anywhere with Wi-Fi technology
· Automatic Wi-Fi at www.obd2tool.com updates available in new software releases
Message déposé le 17.02.2017 à 14:02 - Commentaires (0)



What do you understand about SKP-900 critical programmer
SKP-900 essential programmer can be a very fashionable merchandise to software common automobile keys. And other people also have handful of inquiries over it,
Obd2tool.com
types out the frequently asked SKP-900 concerns. Should you have any difficulty about it, you are able to produce skp-900 critiques.
1.Lcd Screen
Initial SKP900 car important programmer uses top good quality high-resolution Lcd exhibit when the clone augocom works by using even worse good quality display.
2.Operating Velocity
Original
SKP-900
operates more rapidly as opposed to clone; it's going to take about ten seconds to load car vital programming computer software though the clone runs very gradual and in some cases soar towards the principal menu listing specifically.
three.Excess weight
Authentic SKP900 weighs significant compared to clone.
4.Most important Menu
5. Car Assist
First SKP900 addresses most mainstream Asia,Europe and Usa vehicle helps make when clone covers typically Chinese automobile designs.
Major options in the new
MB Star C5
one.Assistance wifi
2.Supported Multi-Language: English/Bulgarian/Danish/Greek/Spanish/French/ltalian/Korean/Polish /Romanuan/Serbo-Croatian/Turkish/Czech/German/Finish/Hyngarian/Japanese/Dutch/Portuguese/Russian/Swedish/Chinese
3.Supports Mercedes Benz Cars and trucks & Trucks 2000 up
four.Supports Offline and Online Programming, If you want to do Online programming, you need to order the Online SCN Coding Service
The difference between the brand new MB SD Connect C5 and SDConnect 4
MB SD Connect Compact five performs the same function as MB SD Connect C4 with newer design. The new MB SD Connect C5 has the same case with first Xentry Connect five multiplexer Other capabilities are exactly the same as MB SD C4. The new MB SD Connect 5 is cheaper in price than sdconnect c4.
(cliquez ici pour suivre le lien)
Message déposé le 27.09.2016 à 09:49 - Commentaires (0)



Whatever you really should listen about NEXIQ-2
The NEXIQ-2, the following technology vehicle interface from NEXIQ Technologies, has arrived. Reliable and rugged, the brand new
NEXIQ USB Link 2
is five moments speedier than its predecessor. It's sixteen occasions a lot more random obtain memory than the old USB-Link, and it supports heavier bus masses on simultaneous channels . It contain bluetooth edition along with the 1 without the need of bluetooth .
The Bluetooth edition supports wireless communication by using an improved facts level (500K b/s J1939). For a lot more trustworthiness, we have upgraded the USB connector to a extra sturdy, automotive grade connector with a latching mechanism. The
OBD2TOOL
USB-Link 2 is appropriate with a wide selection of oem application programs.
The
NEXIQ 2
is appropriate having a wide range of aftermarket application applications. It has sixteen periods far more random obtain memory when compared to the outdated USB-Link, and it supports heavier bus hundreds on simultaneous channels.
What you should listen anything as bellow :
1.It may possibly Not Be Up to date, Or else, The Multiplexer Will likely be Ruined
two. For Volvo, Hino, Cat and Nissan software, be sure to put in them on Windows XP only, other motor vehicle application might be mounted on Gain 7
three. When you transform time of the notebook, Cummins Inline software package can get locked
4.Prior to set up the Nexiq application CD, make sure you reinstall your laptop system to start with,otherwise the multiplexer will be damaged
(cliquez ici pour suivre le lien)
Message déposé le 08.09.2016 à 10:23 - Commentaires (0)



Why select GM Tech 2 scanner from obd2tool.com
Within the just one hand , the GM Tech 2 scanner is the same tester GM Technicians use to diagnose GM autos . The
GM Tech2
arrives with Genuine GM computer software and gives assist for on-board diagnostics on all GM methods 1992 to 2014 . And this device is a lot more cheaper and it really is appropriate for operate . Beside , it also guidance 1997 to 2014 12 months for Opel application update to latest V167 . For hold software program update to V149, it can assist 1999 to 2013 years. Much like the GM2 , the monitor of 3.8.eight monochrome with whole graphics , the potential is 320,40 pixels and perhaps the shows approximately nine vehicle parameters at the same time . The GM Tech two scanner is benefit for dollars to ensure that lots of individuals like it .
Then again , the GM Tech two device has far more powerful and features. Authentic software package for GM from the Tech two Flash suggests essentially the most in depth diagnostic computer software available for contemporary design motor vehicles for GM. As well as the detachable hardware modules present insurance policy versus scan tool obsolescence. The GM Tech 2 resource is capacity to look at the standing of car diagnostic checks as they run and also to seize stored Freeze Frame and Failure Document for Tech 2 Flash . Also , The reliable GM 1992-current 12 months software will present full bi-directional command when doing power teach, chassis, and entire body diagnostics.
All in all , the GM Tech2 scanner has extra highly effective and function that quickly to employ it all portion of your time . It is so astounding the small tool attainable use . It is deserved to buy .
The
NEXIQ USB link 2
is far improved design, and we have been certain that it will provide very effectively for a long time given its background and distribution network. We're continuously lurking in message boards and community forums, and there have been experiences of it not doing work with a variety of gear, but these are typically ordinarily unfounded. We now have but to run throughout an software that might NOT do the job together with the USB Website link two. In case you do have a person, make sure you leave a remark beneath and enable us know!
Message déposé le 28.07.2016 à 10:39 - Commentaires (0)



The MaxiDiag Elite MD802 is the most advanced and multifunctional scan tool
The
MaxiDiag Elite MD802
is the most advanced and multifunctional scan tool powered by its exclusive technology, is designed for technicians to troubleshoot either the basic four systems or all systems for most of major vehicles on the road today. This new diagnostic platform delivers fast and easy diagnosis at the right price. With the optional OBD-I adapter set, The MaxiDiag Elite MD802 can diagnose older vehicles. makes your vehicle service experience much more pleasant!
Autel has now added Oil Light reset and Electronic Parking Brake functions to the MD802. Oil Light reset will access the computer controlled resets or give the mechanical process depending on the vehicle. Electronic Parking Brake allows caliper retraction and new pad size calibration for those vehicles equipped with these systems. Any existing MD802 can download these new features. In some cases, the user may need to purchase a larger SD card.
Once you buy a
NEXIQ USB Link
it is possible to rest assured that NEXIQ is working closely with each and every of the OEM's to create certain that your buy will be in a position to run operate all the OEM application and possess the appropriate connector and communications together with the truck.
XTruck USB Link API Support RP1210A, RP1210B, J2534-2, USB vehicle-to-PC connectivity, XTruck USB linke supports Windows xp and windows 7 32-bit and 64-bit and windows CE compliant. Not all applications are included. If compatibility confirmation is required, more information is needed, or there are questions about an unlisted application, please contact us, a specialist will help you make the right choice.
Autocom cdp+ also is called on Autocom cdp plus,
Autocom CDP+
is a Auto Diagnostic Tool used with a PC or Pocket PC, CDP Plus software is 2013.01 version with keygen. Autocom CDP Pro cars trucks generic work on old and new vehicles. without Bluetooth, support Delphi software, and With flight recorder and real time function.
Message déposé le 08.01.2016 à 07:50 - Commentaires (0)